Ginkgo biloba Extract
Product Detail
Feedback now
High quality natural Ginkgo biloba Extract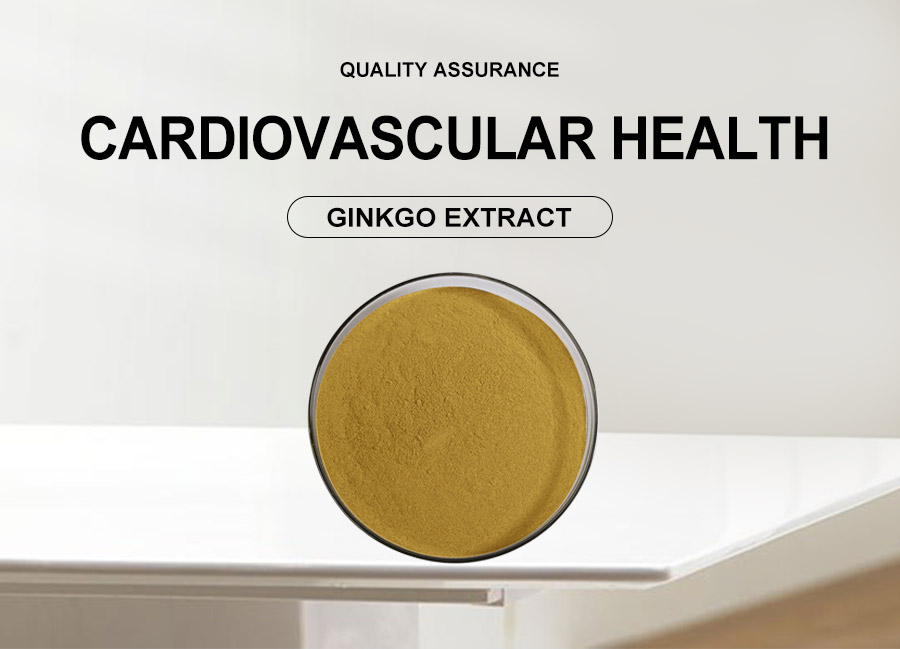 Ginkgo (Ginkgo biloba), also known as the Maidenhair Tree after Adiantum, is a unique species of tree with no close living relatives. The ginkgo is classified in its own division , the Ginkgophyta, comprising the single class Ginkgoopsida, order Ginkgoales, family Ginkgoaceae , genus Ginkgo and is the only extrant species within this group.
Ginkgo flavones is most often prescribed as a cerebral vasodilator and brain tonic for the symptoms of senility, including memory loss, confusion, and depression. Ginkgo flavones is also frequently prescribed for dizziness, tinnitus (ringing and other sounds in the ear), Raynaud's Syndrome (poor circulation in the hands), and intermittent claudication (pain in the lower limbs from arteriosclerotic blockages). Ginkgo flavones have been thoroughly studied for safety and efficacy. (La Presse Medicale 1986) The European ginkgo flavones are such complex concentrated extracts of Ginkgo leaf that they are properly classified as drugs rather than herbs.

Product Name
Ginkgo biloba Extract
Appearance
Dark- violet fine powder
Botanical Source
Gingko biloba L.
Active ingredient
Anthocyanins, Pholyphenols and Flavonoids
Used Part
Elderberry Fronzen Fruit
Solvent Used
Water or/and Ethanol
Solubility
Water soluble
Main Functions
Immunne Support;Antioxidant;Natural Flavor
Specification
25% Anthocyanins by HPLC;

25% Anthocyadins by UV;

30% Pholyphenols by UV;

5-30% Flavonoids by UV;

5:1, 10:1, 20:1 etc.;

ITEMS
SPECIFICATION
METHODS
Description
Appearance
Light yellowish-brown fine powder
GB 5492
Odor&Flavor
Characteristic
GB 5492
Bulk Density
Report data
GB 18798.5
Tapped density
Report data
GB 18798.5
Particle Size
100% pass through 80 mesh sieve
CP2010
Loss on Drying
≤5.0%
CP2010
Sulphated Ash
≤5.0%
CP2010
Extraction Solvent
Ethanol and water
CP2010
Carrier
None
CP2010
Chemical Tests
Extraction Ratio
40~50:1
TLC
Total Flavone Glycosides
>24%
CP2010 HPLC
Total Terpene Lactones
>6%
CP2010 HPLC
Bilobalide
Report data
CP2010 HPLC
Total Ginkgolic Acid
<5.0ppm
CP2010 HPLC
Heavy metals
<10ppm
Eur.Ph.7.0<2.2.58>ICP-MS
Lead
<3.0ppm
Eur.Ph.7.0<2.2.58>ICP-MS
Arsenic
<2.0ppm
Eur.Ph.7.0<2.2.58>ICP-MS
Cadmium
<1.0ppm
Eur.Ph.7.0<2.2.58>ICP-MS
Mercury
<0.1ppm
Eur.Ph.7.0<2.2.58>ICP-MS
Microbiological Tests
Total Plate Count
≤10,000cfu/g
CP2010
Yeast & Mold
≤100cfu/g
CP2010
E.Coli
Absent/10g
CP2010
Salmonella
Absent/25g
CP2010

1.Applied in water-soluble beverages;
2.Applied in pharmaceutical as capsules or pills;
3.Applied in functional food as capsules or pills;
4.Applied in health products as capsules or pills.


1.Ginkgo flavones mainly used as memory and concentration enhancer, and anti-vertigo use;
2.Ginkgo flavones can increase blow flow to the blood vessels for better blood circulation to the various organs of the body;
3.Ginkgo flavones uesd to treat blood fat and dense amelioration, anti-cardiovascular disease,anti-aging,eliminate free radical.



● We provide customized specifications.
● We have professional QC team to ensure your product more better.
● Profession SOP from starting raw material to final product.
● Have the strict inspection during the processing.
● Make the 100% inspection before the shipments.



Passed the ISO9001 quality system authentication and FSSC 22000 authentication and Kosher and Halal.


● We are an innovation and dependable herbal extract manufacturer, with:
● Two factories with first class product lines, yearly production about 2000tons;
● A professional research team, supported by center of analysis service of Hunan Agricultural University, advanced analysis equipments to ensure the quality of all products and the capacity of developing new products.
● More than 20-year experience in international business, we are confident in our capability to provide quality products and best services to our customers, to make our clients' work more easily.

All products have to go through 4 checks in the whole process:
1. Raw material inspection
2. In processing inspection
3. Final inspection
4. Outgoing inspection


Q: What do you produce?
A: We produce standardized herbal extract to ratio extract, such as Pesticide Free Ginseng Extract, Cocoa Polyphenols, Apple Phloridzin, Sweet Tea Extract, Resveratrol From Giant Knotweed Extract, Sorghum Extract, Dong Quai Extract, Milk Thistle Extract, Red Clover Extract, Echinacea Purpurea Extract, Magnolia Bark Extract etc
Q: What is your delivery?
A: Normally the delivery is 7-10 working days
Q: Do you have a guarantee on your products?
A: We guarantee the goods produced is same as the samples confirmed by you, and strictly tested every item comply with CHP, EP or USP before shipping.
Q: Can I have a sample ?
A: Sure, 20g-50g free sample is available for your testing.
If you have some problems about High quality natural Ginkgo biloba Extract, or want to know more details about Immunity Booster,Anti-Oxidant,Cardiovascular Health,Liver Health,Estrogen Balance,etc. Welcome to contact us!
Looking forward to your inquiry.