Sweet Tea Extract
Product Detail
Feedback now
Best Natural Sweetener / Heathy Food Additive / Rubusoside Powder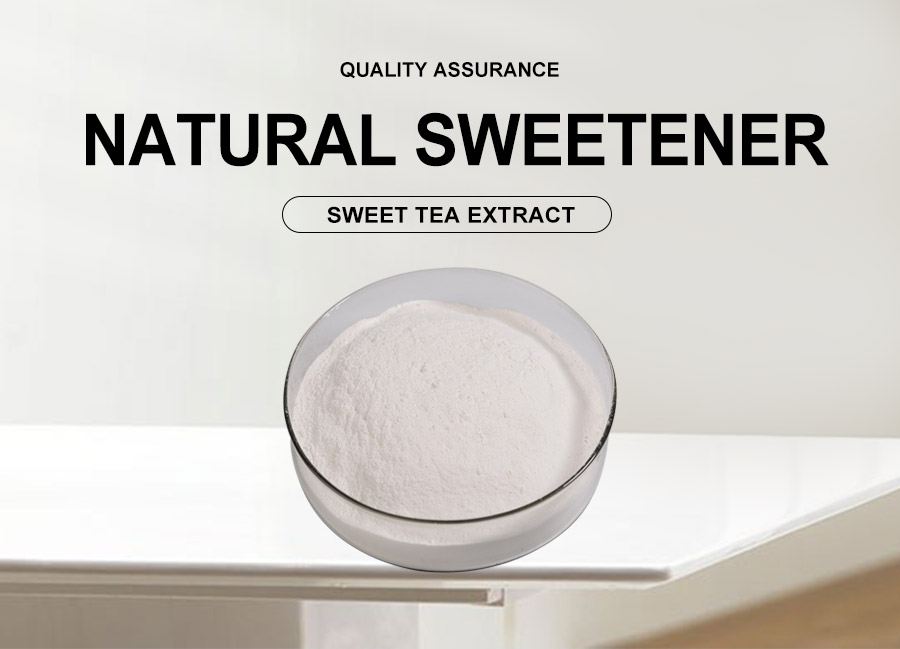 Rubusoside is extracted from the leaves of sweet tea. The extracted Rubusoside powder is about 300 times as sweet as can sugar and contains over 70% Rubusoside, this molecule underlies why it is called "Sweet Tea".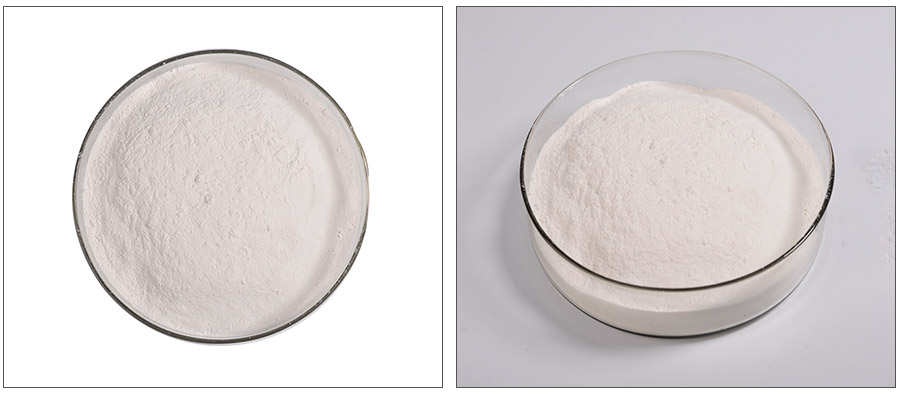 Product name
1) Sweet tea extract
Latin name
2) Rubus Suavissimus S. Lee
Active ingredient
3) Rubusoside
Specification
4) 70%-90% Rubusoside
Particle size
5) 100 pass 60 mesh
Ash
6) ≤8%
Lose on drying
7) ≤5%
Heavy metal
8) ≤ 10ppm
Lead (Pb)
9) ≤ 3ppm
Arsenic(As)
10) ≤ 1ppm
Cadmium(Cd)
11) ≤ 1ppm
Mercury(Hg)
12) ≤ 0.1ppm
Total Plate count
13) ≤10,000 cfu/g
Yeast & Molds
14) ≤100 cfu/g
E. Coli
15) Negative
Salmonella
16) Negative
Pesticide Residue
17) Conform to USP
Solvent Residue
18) Conform to USP
Packaging & storage
19) For sample: packed with PE bag, then put in an aluminum foil bag.
Shipping:
20) For mass production products: 25kg/paper drum(D31cm*51cm or D41cm*51cm). Double polyethylene bag inside.
21) Storage: air-tight original sealed container, low relative humidity and dark conditions.
Delivery & Service:
Timely delivery each time. Provide reliable service and responsible for each customer with each product. Our target is to satisfy every customer with the best service.

● Rubusoside is natural non-toxic, high sweetness, low thermal properties, it is recommended as the second generation health drink and food.
● Rubusoside has "medicine sweetness, sugar, tea" triple efficacy and acquired the American FDA certificate, it is recommended as a sugar and drug substitute.
● Rubusoside has function of balancing blood sugar and fat, it is recommended in health products.


1.Natural sweetener, high sweetness and low calorie;
2.Helps lower blood pressure, balance blood sugar and blood fat;
3.Improve kidney health;
4.100% botanic ingredients.

● 100% Natural raw material of sweet tea extract powder.
● Reasonable & competitive price, fast lead time.
● We will provide more precisely and efficiently manufacture and serve according to clients requirements.
● Quality assured.
● Make the 100% inspection before the shipments.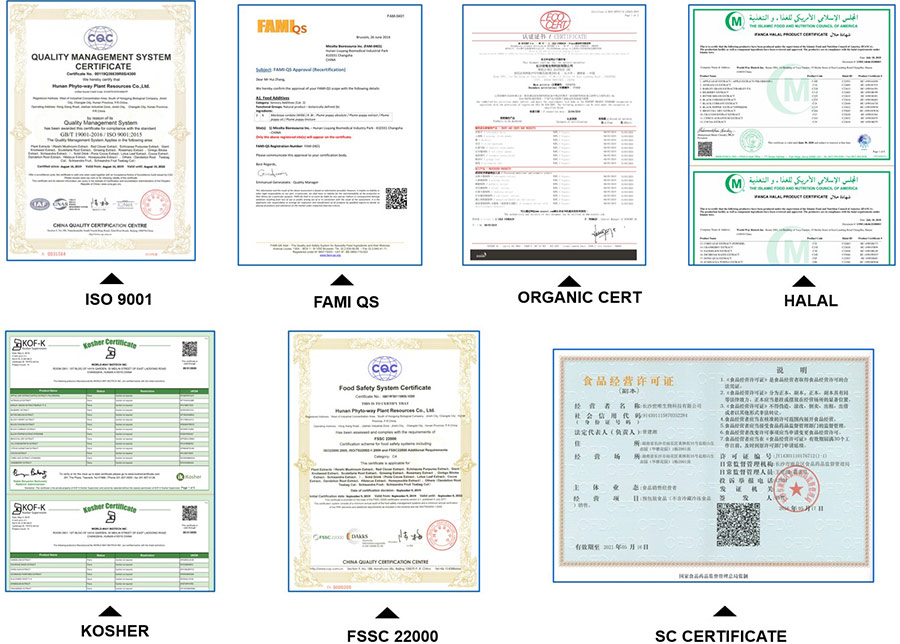 Certifiated to Kosher, Halal, HACCP, FSSC22000, GB/T 19001-2016 / ISO9001-2015, including 2 manufacturing based, strong OEM, R&D, QC system.
OEM/ODM Available.


● Quick delivery time for decent orders.
● Experienced in doing business with big customers almost 2 decades.
● R&D center testing meet with CP, EP, USP.
● The company founder is Dr. Ginkgo Zeng, who was the early bird in the herbal extract business since early 90's.
● Leading and attending over 20 Chinese national research projects, 30 patents obtained.
● The company is also the construction of the National Bio base common platform project, "Engineering Research Center of Hunan Chinese" medicine extraction for the company to extract material product development.
All herbal extracts have to go through 4 checks in the whole process:
1. Raw material inspection
2. In processing inspection
3. Final inspection
4. Outgoing inspection

Q: What do you produce?
A: We produce standardized herbal extract to ratio extract, such as Pesticide Free Ginseng Extract, Cocoa Polyphenols, Apple Phloridzin, Sweet Tea Extract, Resveratrol From Giant Knotweed Extract, Sorghum Extract, Dong Quai Extract, Milk Thistle Extract, Red Clover Extract, Echinacea Purpurea Extract, Magnolia Bark Extract etc
Q: What is your delivery?
A: Normally the delivery is 7-10 working days
Q: Do you have a guarantee on your products?
A: We guarantee the goods produced is same as the samples confirmed by you, and strictly tested every item comply with CHP, EP or USP before shipping.
Q: Can I have a sample ?
A: Sure, 20g-50g free sample is available for your testing.
If you have some problems about Best Natural Sweetener / Heathy Food Additive / Rubusoside Powder, or want to know more details about Immunity Booster,Anti-Oxidant,Cardiovascular Health,Liver Health,Estrogen Balance,etc. Welcome to contact us!
Looking forward to your inquiry.